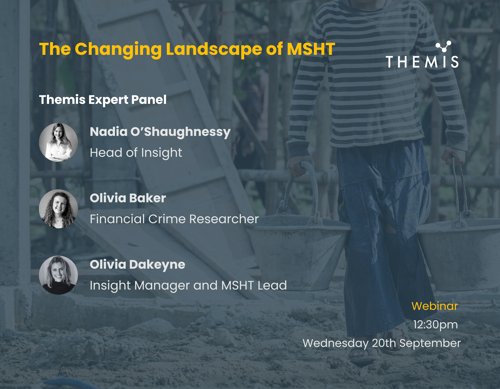 If modern slave labour were a country, it would be the third largest global emitter of carbon dioxide, after China and the US. Forced labour is used to undertake illegal deforestation, mining, fishing and waste crime, damaging our planet, robbing it of biodiversity and contributing to climate change which, in turn, increases displacement and further drives human trafficking activity.
Paying attention to your company's modern slavery risks should form a really important strand of your ESG initiatives. Yet developments in the digital world and the organised crime landscape are changing the ways in which human traffickers operate.
Join our Head of Insight, Nadia O'Shaughnessy, and our Modern Slavery and Human Trafficking Lead, Olivia Dakeyne, to learn about the changing face and landscape of modern slavery and human trafficking, the current trends and risks that law enforcement are seeing and the important role companies have to play in the fight against this devastating crime.
© Copyright 2023 Themis International Services Limited. All rights reserved.
Company Number: 11733141 | VAT Number: GB331815225