6 March 2023
An explosive report by aptly named short seller, Hindenburg Research, has claimed that one of India's largest conglomerates, the USD 235 billion valued Adani Group, is in fact "the most egregious example of corporate fraud in history"
Hindenburg detailed the findings of their two year investigation in January of this year, throwing the future of the Adani Group and its founder Guatam Adani, into question. Gautam Adani was thought of by some as the Indian Rockefeller, and was the third richest person in the world just a couple weeks ago. He has since dropped to the twenty-sixth position, at the time of writing, with his net worth having been slashed in more than half, to USD 45 billion.
WHAT IS THE ADANI GROUP?
The Adani Group is an Indian conglomerate comprising seven subsidiaries and is responsible for some of India's largest ports, operating 20% of India's power-transmission lines, 25% of its commercial air traffic, and close to 20% of its cement. In the last year, the group brought in revenues of USD 25 billion and a net profit of USD 1.8 billion, evidence of the giant that Hindenburg Research has sought to expose.
WHAT FINDINGS DID HINDENBURG RESEARCH REPORT?
Hindenburg Research's extensive 100 page report outlines numerous details of suspicious transactions, undisclosed relationships, and accusations of stock price and earning manipulation at Adani Group, tarnishing a company that had previously seemed untouchable.
Hindenburg's most serious allegation refers to a "brazen stock manipulation and accounting fraud scheme" made possible by a web of shell companies. They suggest that a variety of offshore firms have been established in Mauritius, the UAE, Singapore, Cyprus, and several Caribbean Islands to channel assets to and from the Adani Group companies.
According to the report, 38 Mauritius-based firms controlled by Guatam's brother, Vinod Adani, have been identified and they point to five particularly suspicious Mauritius entities that all have between 89% and 100% of their assets in Adani Group companies. Hindenburg claims that in an attempt to conceal these companies, so as not to make it quite so apparent that they are shells, websites were constructed for the entities associated with Vinod Adani. A closer look into the websites made it apparent that there was no legitimate business being carried out by the firms, with many of the sites having "functionally identical websites'' and the same date of registration.
Questions were further raised regarding the familial involvement across the various companies. Hindenburg identified eight of the 22 executive positions as being filled by Adani family members, blurring the lines between business and family. Such a dynamic places the companies' finances in the hands of a select, connected group, fostering the perfect environment for funny business. A number of those executives have been directly involved and investigated for various fraud scandals, including a major diamond trading import/export scheme in the early 2000s.
Overall, Hindenburg's report raised 88 questions regarding the activities of the Adani Group. The company's over 400 page rebuttal of the fund's claims has so far addressed just 26 of those.
THE VULNERABILITY OF INDIA
Adani is himself perceived as being closely aligned with India's Prime Minister, Narendra Modi, a relationship that has drawn great attention. India's opposition has raised concerns that this close partnership is emblematic of a wider issue of cronyism at the top of government. In recent days, Rahul Gandhi, the opposition's leader, has gone so far as to say that India's ports, green energy, mining, ultimately "whatever happens in India, Adani-ji is found everywhere," illustrating just how vast the company spans. Though Adani has denied such claims, critics of the Group believe that his close ties with the Modi government have provided him with preferential treatment for government projects.
Certainly, the exponential growth of Adani's wealth coincided with Modi's rise to power together with the Bharatiya Janata Party (BJP). As Modi has pushed his 'Make in India' campaign, an effort to modernise India's infrastructure to match the country's rise as an economic powerhouse, the Adani Group has capitalised on these large government subsidies to fund projects. Adani has claimed Hidenberg's report is "a calculated attack on India" highlighting how central government contracts are to the group's work.
THE IMPACT OF FINANCIAL CRIME
Hindenburg is a short seller and stands to profit from any drop in Adani Group's share price. However, the report is yet another example of the catastrophic impact perceived financial crime can have on a company's well being and finances. At the very least, they have shaken investors and forced Adani to withdraw the USD 2.5 billion in shares of Adani Enterprises that were for sale.
It should go without saying that the claims should be further probed. Should the report be accurate, the implications are far reaching. The company that Adani has built has become an "empire of strategic importance" that touches the lives of Indians daily. It would be detrimental to India's legitimacy as a prosperous, and regulated, economy if the findings uncover years of pocket stuffing by the Adani family at the expense of the Indian population. Though one hopes this is not the case, the legitimate revelations of Hindenburg's report makes it difficult for the Group to dodge intense scrutiny.
Should we take one thing from this scandal, it is the importance of due diligence. Though Hindenburg's report outlined in great depth the activities of the Adani Group, this was not the first time they had come under fire. Individuals have for years raised questions surrounding the Group's activities, though the sheer scale of the conglomerate made it difficult to truly shake. Regardless, this case further emphasises the role we each play in vetting our suppliers, partners, and customers. A quick search of Gautam Adani on Themis' anti-financial crime due diligence platform, Themis Search, reveals a number of connections to financial criminals and lawsuits.
Among them are Guatam's younger brother, Rajesh Adani, and Samir Vora, his brother-in-law, who were both implicated in the diamond trading scandal mentioned previously, the former of whom is the Adani Group's current Managing Director and the latter who is the current Executive Director of Adani Australia. It is similar revelations from Hindenburg Research which has done so much damage to the firm and caused an exodus of investors.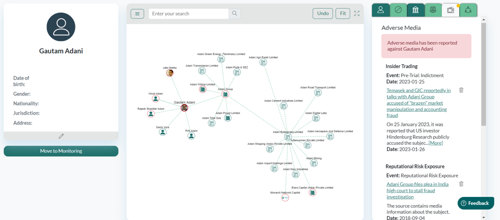 ‍As a short-seller, Hindenburg banks on the downfall of the company they short, though this is not to discredit their investigation. In fact, short-sellers have previously helped to reveal some of the corporate world's most nefarious activities, including most recently the infamous Wirecard scandal. Sooner, rather than later, the questions raised by Hindenburg will have to be answered.