Country Risk Report - United Arab Emirates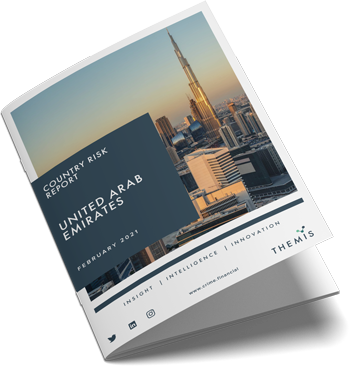 Price: GBP238.80
incl.GBP39.80 VAT
Description
The United Arab Emirates' (UAE) role as a global trade and finance hub for the MENA region offers investors and participants in financial markets an unprecedented opportunity for business growth. The UAE's central location and unique regulatory environment has enabled the country to become one of the region's richest and fastest-growing economies, particularly over the last ten years.
Yet such opportunity and growth have attracted a range of criminal actors seeking to capitalise on the blossoming business and financial service sectors. From money-laundering to proliferation financing, the UAE has faced unprecedented challenges over the last two years in response to the COVID-19 pandemic. Nonetheless, the country is enjoying a strong economic recovery and is working to proactively address exposures to illicit activity through changes to the legal and financial networks.
This jurisdictional risk report provides up-to-date and in-depth analysis covering financial crime threats related to the UAE as well as guidance on navigating the country's evolving legal, regulatory, and institutional frameworks. It also sets out recommendations and a series of actions to ensure businesses are best prepared to mitigate the risks when operating in this country, with consideration given to both criminal threats and regulatory expectations in this dynamic and international market.
© Copyright 2023 Themis International Services Limited. All rights reserved.
Company Number: 11733141 | VAT Number: GB331815225